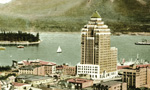 Vancouver's premiere mortgage investment corporation with a "common sense" approach to real estate lending.
Pacifica is a Mortgage Investment Corporation that has generated consistent returns since 1994. Our experienced management team has over 100 collective years in real estate lending and a deep understanding of our market and clients needs.
Click here to learn more about us.